As we ring in the new year, 2022, we do so by also saying goodbye to the 2021 NFL regular season.
With just one week left to play, the first ever Week 18, seven of eight division titles have been clinched, and 11 of 14 total playoff spots have been filled, with just three more berths and seeding left to be decided.
As it stands, there will be a few teams with nothing to play for in Week 18, which could signal a few key players resting up for the playoffs by missing a portion of their Week 18 contest, or sitting out their respective games entirely.
With that in mind, it feels like the right time to reveal my award picks and give my final power ranking for the season.
Some of these races are pretty tight, which makes some of these choices difficult. Give them a read and feel free to comment below the piece in the comments section.
We begin with the major awards, and then the final 'The Better Half' section follows.
Enjoy!
*******
MVP (Most Valuable Player) —
Tom Brady, QB, Tampa Bay Buccaneers
Runner-up: Aaron Rodgers, QB, Green Bay Packers
This will certainly draw some ire. The battle between Tom Brady and Aaron Rodgers, both three-time NFL MVPs, for this year's award, is a fascinating case study.
Like other league awards, stats play a huge factor in determining a winner here, but determining a player's 'value' to their team, along with team success, help bring a unique 'storyline' feel to the award.
The Packers have been the best team in football for most of the year, and will enter the playoffs as the NFC's No. 1 seed. Aaron Rodgers leads the league in a ton of efficiency metrics, as he's arguably been the most efficient quarterback this year. His league-high marks include: TD/INT ratio (35:4), Total QBR (67.8), passer rating (111.1), total EPA and EPA/play.
When voting for MVP, there is an amount of "who feels like the winner?" associated with the process, and Rodgers certainly fits that criteria.
But Tom Brady, who has reached a LeBron James/Aaron Donald-level of fatigue when determining his single-season success for awards, should be right there, when it comes to a narrative-based discussion surrounding the honor.
In accounting for an injury-riddled team that has regressed mightily on defense, and been without pass-catchers such as Mike Evans, Chris Godwin, Antonio Brown (who now is gone, if you haven't heard) and Rob Gronkowski at various points, the Buccaneers have resembled one of the undermanned 'Do Your Job' teams throughout Brady's Patriots career, without Bill Belichick to help team up with him to lift the squad up.
Still, Brady has the Bucs sitting at 12-4, one game behind the Packers, with one more week to go.
Brady leads the league in a few traditional volume-based stats — attempts (682), completions (456), passing yards (4,990), passing touchdowns (40) — and bests Rodgers in a few important advanced analytics-based efficiency metrics such as PFF grade (91.4, 2nd in NFL behind Joe Burrow) and WAR (4.7). That last stat, WAR (Wins above replacement), is a respected metric created by Pro Football Focus that is used to " assess the value of a player with an eye toward winning football games." Brady leads the league in WAR by a huge margin. Brady also is right behind Rodgers in Total QBR (66.7 to Rodgers' 66.8).
Many point to Brady's struggles in two losses to the New Orleans Saints, including a 9-0 dumpster fire loss at home to New Orleans in December. Despite playing the game with numerous key injuries, there's no excuse for a loss of that nature. But if that is to be docked against Brady, shouldn't Rodgers' 38-3, Week 1 loss to New Orleans be brought up, as well?
Wait, there's more.
Brady has also been his usual self in the clutch, leading Tampa to a game-winning drive on five different occasions (four times versus 2021 playoff teams), which includes a win over the Patriots in Week 4, a double-digit comeback in Indianapolis to beat the Colts in Week 12, a walk-off overtime touchdown pass to Breshad Perriman to beat the the Bills in Week 14, and Sunday's game-winning drive to beat the Jets (see tweet below) — a 93-yard journey with no timeouts, needing a touchdown, amidst all of the Antonio Brown drama.
This can go on and on. The latter part of the tweet above includes an explanation of a few of Brady's interceptions, that were really ghastly drops-turned turnovers by his teammates.
Certainly, Rodgers has done enough to be deserving of the award. It's a close race.
Rodgers certainly shouldn't be docked because he has been "unlikable," which was foolish reasoning given by longtime NFL reporter Herb Arkush, who is one of the 50 AP voters whose vote will count, and doesn't plan to vote for Rodgers.
This is an award given to on-field play.
But to be fair, Rodgers' snafu-ish handling of his COVID-19 vaccination situation did lead to him missing Green Bay's battle in Kansas City, where the Chiefs limited the Packers' offense with QB Jordan Love to just 7 points in a KC victory.
Couple that with the likeliness of Rodgers sitting out all or most of Green Bay's Week 18 battle, and Brady likely playing all of his versus Carolina, and you will see an even bigger gap between Brady and Rodgers in some statistical metrics.
Again, it's a close race, and like many arguing for either side, my bias is known — I'm a big Brady supporter. To tell you the truth, I figured Rodgers had this award locked up a week ago, but after watching Brady overcome the the drama and ineptitude that plagued the Bucs on Sunday, just to win another game in clutch that no one is talking about, sort of shifted the narrative for me.
As great as Rodgers has been, you can make the case that Brady has been more valuable to his team this season. I just made that case, actually.
One of these two quarterbacks will win their fourth MVP award in a month. Who is it going to be?
OPOY (Offensive Player of the Year) —
Cooper Kupp, WR, Los Angeles Rams
Runner-up: Jonathan Taylor, RB, Indianapolis Colts
Both Cooper Kupp and Jonathan Taylor (along with Joe Burrow), would help round out a 'Top 5′ of MVP voting, which would be helpful if there were additional votes given for second place, third place and so on. But there's only one vote given for the award, and coupled with Brady and Rodgers' success, and the value of a quarterback to its team, that makes it difficult for Kupp, or Taylor, especially, to be in the MVP race.
Now this award is a different story.
What Taylor has done this season has been extraordinary. He leads league the lead in rushing yards (1,734) and second place is over 500 yards behind. He also leads the NFL in rushing touchdowns (18) by a wide a margin and leads the league in touchdowns scored (20). And despite the Colts harboring what may be the league's best offensive line, Taylor's performance is still more indicative of his talent at the position. He could be the new Derrick Henry, or close to him.
That being said, what Kupp has done this season has been more impressive.
Most of what he has done has not been "schemed." Sure, some of his big chunk gains have come on designed play-action passing concepts by Rams head coach Sean McVay, but a lot of Kupp's success has come from his route-running ability, where he excels both from the slot, and from the perimeter.
He's always been a good slot receiver. He's played in the slot for 617 snaps this year, according to PFF. He's also had 324 snaps out wide, which is a hefty total for a perceived full-time slot pass catcher.
In 16 games, Kupp has totaled 138 catches for 1,829 receiving yards and 15 touchdowns. He leads the league in all three metrics, which figures to give him the first pass catcher 'triple crown' since Steve Smith did so for the Carolina Panthers in 2005.
Kupp also leads the league in targets (184), with the next closest receiver, Davante Adams, being 22 targets behind.
With Rams quarterback Matthew Stafford having an up and own season, Kupp has been the spark plug of the Rams' offense. The offense has simply evolved to revolve around him, and he has simply remained uncoverable. My vote would be for Kupp.
 DOPY (Defensive Player of the Year) —
T.J. Watt, EDGE, Pittsburgh Steelers
Runner-up: Aaron Donald, DT, Los Angeles Rams
This may be the toughest award to decide this season.
Myles Garrett had a clear lead at midseason. Several other names have jumped in and out of the conversation, including Matthew Judon, Nick Bosa, and Trey Hendrickson. And Dallas Cowboys rookie phenom Micah Parsons should certainly be in the mix.
But with one week to go, to me, the battle comes down to T.J. Watt and Aaron Donald.
Donald won last year's DOPY award, as well as three of the last four. There is a sense of voter fatigue with him, like there has been with LeBron James for the NBA's MVP honor.
Donald leads the league in QB pressures by a wide margin, which is incredibly impressive for an interior defensive lineman. He has a solid case to win the award again.
But so does Steelers stand-up EDGE defender T.J. Watt.
Watt has been in the mix for the award in each of the last two seasons. This year, he leads the league with 21.5 sacks, and has added four forced fumbles, and a league-high (tied) three fumble recoveries.
Pittsburgh's defense hasn't been as strong of an overall unit as it's been in the past, with the defense relying heavily on Watt and veteran Cameron Heyward. Both of them have delivered, with Watt being the driving force.
The Steelers are known for being a proud franchise, and with the offense as lowly as it's been in 2021 for Ben Roethlisberger's swan song season, it's been Watt that has the led the charge for the 8-7-1 Steelers, who have a shot at a winning record this week, and an outside shot at a playoff spot.
OROY (Offensive Rookie of the Year) — 
Ja'Marr Chase, WR, Cincinnati Bengals
Runner-up: Mac Jones, QB, New England Patriots
As impressive as Mac Jones has been in spurts for the Patriots, he now falls back to the pack with the likes of Jaylen Waddle, Kyle Pitts and Creed Humphrey, as Ja'Marr Chase literally left behind everyone in the field last week versus the Chiefs.
In two important wins over Baltimore and Kansas City in the last two weeks, Chase has totaled 18 catches on 22 targets for 391 yards and three touchdowns to bring his total numbers on the year to: 79 catches, 1,429 receiving yards, 13 touchdowns.
He's been the league's most explosive downfield threat, leading the NFL in yards per reception (18.1) among qualified candidates.
There were many (including myself) questioning the Bengals ' selection of Chase with the fifth overall pick over a quality offensive tackle prospect last spring. The move seemed like too much of a gift toward Burrow, and less of an ideal decision toward overall team-building.
And although the Bengals' O-line is indeed still a weakness, and the tackle position must be addressed in the offseason, Chase has proven to be the correct pick.
Burrow and Chase have teamed up to form perhaps the most dangerous QB-pass catcher combo in the game today, or at least up there with Patrick Mahoems-Tyreek Hill.
Although Mac Jones may bring more career-long value to his team than Chase, it's Chase who deserves this particular award this season, no question.
DROY (Defensive Rookie of the Year) —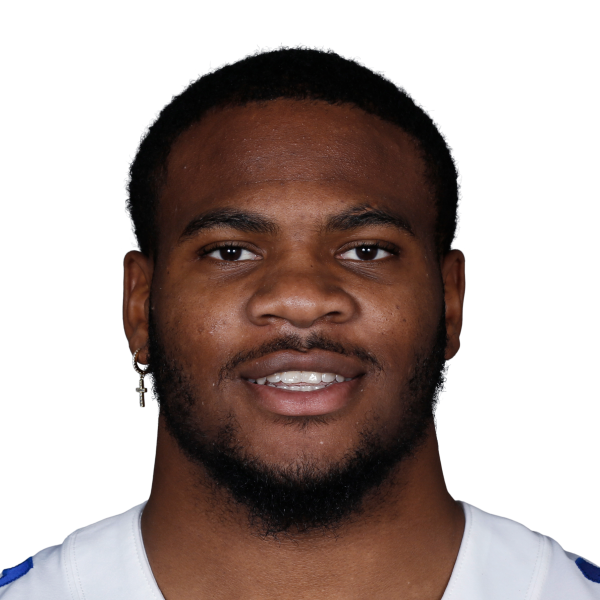 Micah Parsons, LB/EDGE, Dallas Cowboys
Runner-up: Patrick Surtain II, CB, Denver Broncos 
This is a pretty easy pick. Patrick Surtain II has had an awesome rookie season, and should be a shutdown cornerback for years to come, but Micah Parsons is a legitimate Defensive Player of the Year candidate, let alone Defensive Rookie of the Year. Parsons has the highest PFF grade (88.7) of any linebacker this year, but also has played 374 snaps on the D-line as an EDGE defender (according to PFF), where he leads the league in PFF pass rush grade (93.0) and is sixth in the NFL with 13 sacks. He's been one of the best players in football this season, period.
Comeback Player of the Year — 
 Joe Burrow, QB, Cincinnati Bengals
Runner-up: Dak Prescott, QB, Dallas Cowboys
Despite Prescott's solid season in return from injury, this one has become pretty simple for me in recent weeks. Joe Burrow, with help from his buddy Ja'Marr Chase, has been marvelous in return from last season's knee injury, helping to lead the Bengals to a surprising AFC North title, all while being near the top of the league in may statistical categories.
Coach of the Year —
 Mike Vrabel, Tennessee Titans
Runner-up: Matt LaFleur, Green Bay Packers 
It feels sort of wrong for Matt LaFleur, who has 13 wins in each of his first three seasons in Green Bay, to not win the award. If he wins it, there will be no pushback from me.
But what Mike Vrabel has done in Tennessee in this season has been more impressive. Dealing with an NFL-record 88 different starters in a single season, Vrabel has the Titans on the brink of capturing the AFC's No. 1 seed, and it's ever-important bye. He's done much of this without arguably his two best players — running back Derrick Henry and receiver A.J. Brown.
If the Titans beat the Texans on Sunday, the award should be his.
Executive of the Year —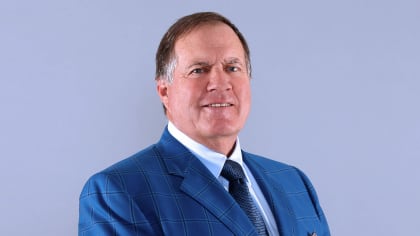 Bill Belichick, New England Patriots
Runner-up: Brian Gutekunst, Green Bay Packers 
No one would fault anyone for voting for Packers general manager Brian Gutekunst here. He's built perhaps the most complete team in football, all while dealing with the Aaron Rodgers offseason drama, to have the Packers as the Super Bowl favorite here in January.
But give me Bill Belichick, whose plan to move at hyper-speed to success following the departure of Tom Brady amidst a pandemic-riddled 2020, has panned out.
The Patriots spent a free agency-record $163 million guaranteed in free agency, and are seeing some great returns already from some such as EDGE Matthew Judon.
New England also drafted rookie QB Mac Jones in the first round, and have ushered him in nicely into the Patriot Way as the Patriots head back to the Playoffs.
Had New England defeated the Buffalo Bills last month, and grabbed the AFC's No. 1 seed, Belichick would have been the vote for Coach of the Year, as well.
THE BETTER HALF
1. Green Bay Packers (13-3) (Last week: 1). They've been the NFL's best and most complete team for much of the season. This may be Aaron Rodgers' best chance yet at a second Super Bowl ring.
2. Los Angeles Rams (12-4) (Last week: 3). Even with Matthew Stafford playing messy football, they're a Super Bowl contender. This is banking on them finally beating nemesis San Francisco to clinch the NFC's No. 2 seed, though.
3. Kansas City Chiefs (11-5) (Last week: 2). The loss in Cincinnati likely bumped them out of having a bye. They were on a roll. They're the back-to-back defending AFC champs, so they enter the playoff field as the conference's favorite. But just how good is their defense? Will they hold up versus the likes of Buffalo? Or versus the ground game of Jonathan Taylor and Indianapolis?
4. Tampa Bay Buccaneers (12-4) (Last week: 4). Tom Brady has done a lot to prop them up this season. And that's exactly why they can't be counted out in the playoffs. But it does sort of feel like it's not their year. We shall see. If their defense can flip the switch to even 'moderately good,' then look out.
5. Buffalo Bills (10-6) (Last week: 7). With Josh Allen manning their offense, they're a Super Bowl contender. They've showed some toughness recently, too. Both mentally and physically.
6. Tennessee Titans (11-5) (Last week: 8). The Titans have A.J. Brown healthy and back on the field, playing well. Now, it's Derrick Henry's turn. The 'King' could reportedly play this week, if not, in the playoffs. Tennessee is a win over the Houston Texans away from clinching the AFC's No. 1 seed, just as they re-welcome their star running back. What a great job by head coach Mike Vrabel to keep this team afloat amidst all of the madness.
7. Dallas Cowboys (11-5) (Last week: 5). They sort of felt like a team of destiny early on, but that magic has waned as of late. They're still a great team. You can't count them out.
8. New England Patriots (10-6) (Last week: 9). Like the Colts, they have the structure and identity of a team that could make a run in the playoffs, especially with Bill Belichick at coach, and the AFC as is. Is Mac Jones ready?
9. Cincinnati Bengals (10-6) (Last week: 10). This has been a helluva season for them. Joe Burrow has taken the leap, and it looks like they made the right move in drafting Ja'Marr Chase over an offensive tackle with pick No. 5 last spring, eh? Let's hear it for the AFC North champions.
10. Indianapolis Colts (9-7) (Last week: 6). They should be able to beat the Jaguars on Sunday to clinch a wild card spot, but their home loss to Las Vegas brought them down to earth some. They have the DNA of a tough playoff team, but they'll ultimately go as far as Carson Wentz allows them to.
11. Arizona Cardinals (11-5) (Last week: 12). The Cardinals still have a shot at the NFC West. That was a tough win in Dallas last Sunday. Maybe they're not dead yet. They still don't ooze confidence, heading into the playoffs. But that was a step back in the rigth direction.
12. San Francisco 49ers (9-7) (Last week: 11). They need to beat the Rams for a sixth straight time to ensure they get into the playoffs. A loss and a Saints win means they're out. If it's Trey Lance who gets the start, can the rookie get the job done?
13. Los Angeles Chargers (9-7) (Last week: 16). Justin Herbert is perhaps as as talented a quarterback as any in this league, but the Chargers are…well, the Chargers. Can they overcome their franchise's energy to defeat the Raiders in Las Vegas? Technically, they're a better team, but I wouldn't drop any money on them. Las Vegas has been a more mentally tough team this season.
14. Las Vegas Raiders (9-7) (Last week: NR). Derek Carr (with some help from Hunter Renfrow) has done an incredible job keeping the Raiders season alive. They host the Chargers in a de-facto playoff game on Sunday night. If they win, they're in.
15. Philadelphia Eagles (9-7) (Last week: 15). The Eagles are going to the playoffs in Year 1 under rookie head coach Nick Sirianni. Jalen Hurts has had his ups and downs, but he's proven to be a solid quarterback. Considering the lackluster impending rookie draft class of passers, Philadelphia should use their three first-round draft picks on other positions in hopes of building a solid team around Hurts, unless they can swing a deal for a star QB such as Aaron Rodgers, Russell Wilson, or maybe Deshaun Watson. If not, they should stick with Hurts.
16. Baltimore Ravens (8-8) (Last week: 14). Injuries derailed their regular season before it even began. They've lost five straight since an 8-3 start that had them as AFC frontrunners at the time. As great as the Bengals' story is this season, a healthy Lamar Jackson, even with the rest of the team as is, probably would have given the Ravens the AFC North title this year. Instead, they'll likely miss the playoffs.
Next Up: New Orleans, Pittsburgh, Miami, Minnesota, Cleveland